Gray Widow's War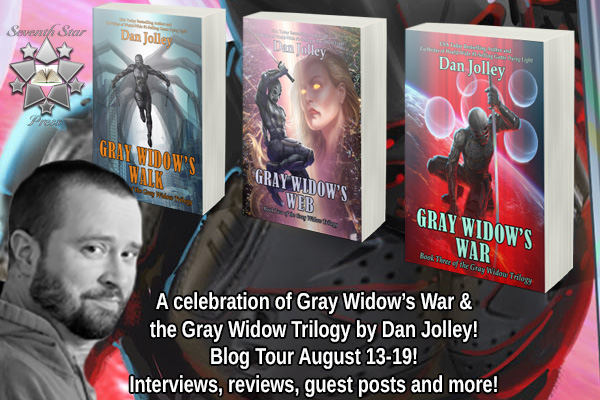 Gray Widow's War Blog Tour
August 13-19, 2018
The final installment in USA Today Bestselling Author Dan Jolley's Gray Widow Trilogy, Gray Widow's War, is featured in a new blog tour set to take place August 13-19. Featuring a great heroine in Janey Sinclair, the Gray Widow, the series is action-packed and appeals to readers of many genres.
With aliens and genetic mutations in the series, the Gray Widow Trilogy encompasses science fiction, urban fantasy and superhero fiction. The covers for this series were done by Dark Horse Comics artist John Nadeau.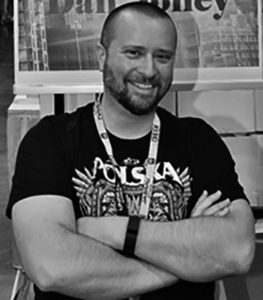 About the author:
Dan Jolley began writing professionally at age 19. Starting out in comic books, Dan has worked for major publishers such as DC (Firestorm), Marvel (Dr. Strange), Dark Horse (Aliens), and Image (G.I. Joe), and soon branched out into licensed-property novels (Star Trek), film novelizations (Iron Man), and original novels, including the Middle Grade Urban Fantasy series Five Elements and the Urban Sci-Fi Gray Widow Trilogy.
Dan began writing for video games in 2007, and has contributed storylines, characters, and dialogue to titles such as Transformers: War for Cybertron, Prototype 2, and Dying Light, among others. Dan lives with his wife Tracy and a handful of largely inert felines in northwest Georgia, and enjoys connecting with readers via his website (www.danjolley.com) and on Twitter (@_DanJolley).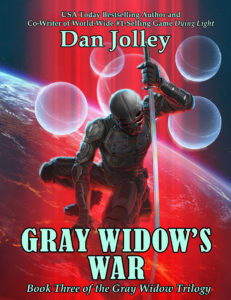 Book Synopsis for Gray Widow's War:
When Janey Sinclair vowed to use her ability to teleport from shadow to shadow to protect the city of Atlanta, she only wanted to spare others the kind of agony she'd endured herself. To prove that not all suffering is necessary. To heal the splinter-edged rifts in her own heart.
But soon Janey realized she was part of something much larger. Something that spanned the globe…
And reached beyond it.
The forces behind Janey's Augmentation—the authors of the grand experiment striving to use human DNA as raw material in a vast intergalactic conflict—have arrived on Earth. And if the planet is to survive, Janey Sinclair must unite friends and foes alike. Humanity itself hangs in the balance, as Janey wages the GRAY WIDOW'S WAR
Gray Widow's War is book three of the Gray Widow Trilogy.
Author Links:
Website:
www.danjolley.com
Twitter:
@_DanJolley
Tour Schedule and Activities
8/13 Jordan Hirsch jordanrhirsch.wordpress.com Review
8/13 Shells interviews http://shellsinterviews.blogspot.com/ Guest Post
8/14 Ally Books and Reviews https://allybooksandreviews.blogspot.com VLOG
8/16 Breakeven Books https://breakevenbooks.com Author Interview
8/17 Sapphyria's Books https://saphsbooks.blogspot.com/ Top Ten's Llist
8/18 The Seventh Star https://theseventhstarblog.com Guest Post
8/19 Sheila's Guests and Reviews https://Sheiladeeth.blogspot.com Guest Post
Amazon Links for Gray Widow's War
Print Version
https://www.amazon.com/Gray-Widows-War-Widow-Trilogy/dp/1948042460/
Kindle Version
https://www.amazon.com/Gray-Widows-Widow-Trilogy-Book-ebook/dp/B07BZ36QKQ/
Barnes and Noble Link for Gray Widow's War
https://www.barnesandnoble.com/w/gray-widows-war-dan-jolley/1128781774?ean=9781948042468